Summer 2019
5 secrets to whole-body wellness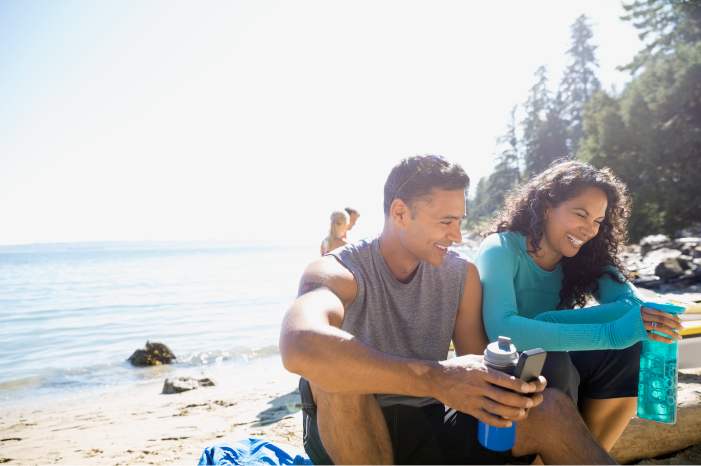 This time of year is a great time to be outdoors. Staying active by walking, riding a bike, swimming, traveling or catching a ball game can improve your overall health and well-being. But how does it influence your oral health? And what are you eating and drinking while you're on the go?
Here are five tips that can help enhance both your fitness and smile:
Work out wisely.
As you get outdoors to exercise and enjoy the nice weather, avoid gaining those calories back with a sugary sports drink or a smoothie. Also, don't forget lip balm with SPF and a mouth guard to protect your lips, teeth and mouth while you're out playing in the sun.
Hydrate with water.
Reducing sugar is key to maintaining a healthy diet — as well as key to preventing tooth decay. Need something after a warm day in the sun? Choose water instead of soda or other drinks with added sugar and calories. Your mouth and your waistline will thank you for it.
Snack Sensibly
Reach for fresh fruit or a piece of sugar-free gum rather than chips, a cookie, cupcake or piece of pie. Chewing sugar-free gum sweetened with xylitol can also help clean your teeth and reduce your risk of cavities.
Eat in moderation.
To maintain a healthy diet, it's important to watch portion sizes. But be sure not to overdo it. Reducing your food intake too much and not maintaining a balanced diet can deplete your body of necessary vitamins and minerals and have a major effect on your oral health. Malnutrition can lead to a weakened jawbone, softened enamel and deficient gums, making you vulnerable to gum disease.
Vary your food groups.
Eating a variety of foods from all food groups is best for your overall health — and for healthy teeth and gums. Calcium-rich foods such as dark leafy greens, milk, yogurt and cheese help promote strong teeth and bones. Phosphorus found in lean meat, fish, eggs, nuts and beans is also great for teeth strength. Fruits and vegetables such as watermelon, peppers, broccoli and spinach are packed with vitamin C that help promote gum health.